Couchbase Services
Production DBA services for your Couchbase environment
Couchbase Managed Services
As a Couchbase partner, we've developed our services to wrap around the business critical support, experience and tools to help you build high performance, readily available applications with enterprise NoSQL.
Couchbase is a leading NoSQL vendor undergoing rapid adoption as organisations strive to meet the needs of highly scalable and "always on" critical environments. By providing a combination of a highly resilient cache and a flexible KV/Document NoSQL database, Couchbase sits at the heart of the most demanding, critical web environments to provide sub millisecond performance to users.

With N4Stack's Azure Service Tiles we have adopted a modern DevOps approach in Microsoft Azure whilst being able to launch and go to market with a new application. Our key goals for our project are to accelerate and modernise our operations in Azure, whilst ensuring that we sustain high levels of governance and mission critical service availability.
The N4Stack team have supported us through the whole adoption process and we are able to rely on the team for the critical support of the platform.
With Azure Service Tiles, we value the expertise across the Azure, DevOps and Data teams and the continual focus on governance improvement to ensure we retain control whilst optimising the platform.
N4Stack are one of the few specialist Couchbase service partners in the UK. Our DBA's work closely with your team to handle in life changes, maintenance tasks and performance tuning, monitoring the deployment 24×7. N4Stack also offer a range of consulting services to assist you throughout the full lifecycle, including sizing and providing POC environments. Our skills cover:
Couchbase Server 3.x, 4.x & 5.x
Couchbase Mobile Sync
XDCR
Rack Zone Awareness
Memory Optimisation
Rebalancing & Cluster Management
Backup & Maintenance
Couchbase Server 3.x, 4.x & 5. & 6x
Azure deployment and Managed Service
Production Support: A 24x7x365 DBA team looking after your Couchbase deployment
Couchbase DBaaS: An enterprise grade Couchbase database as a service (DBaaS) available on AWS
Performance Tuning: Ensuring performance remains optimal (esp. RAM Tuning)
Real Time Monitoring: Our service overlay will be tuned for your environment
Healthcheck: A best practice point in time review of the Couchbase configuration
Database Design: Ensure the project gets the best possible start with our design & transition service
Proof of Concept: A jumpstart package to design and provide a ready to POC environment
Supported Versions: Supporting from Couchbase 3.x, 4.x, 5.x and 6.x
We love supporting our customers on their digital transformation and data modernisation journeys.
Don't just take our word for it though. Have a read of our customer stories to discover how we've helped them get the most out of the cloud.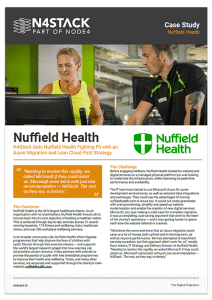 Find out how we helped Nuffield Health cut costs, and gain website resiliency and confidence with a Microsoft Azure migration and lean cloud-first strategy.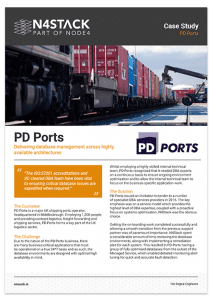 "The ISO:27001 accreditations and SC-cleared DBA team have been vital to ensuring critical database issues are expedited when required."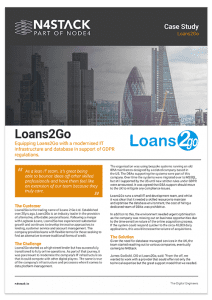 Find out how our infrastructure and database modernisation helped Loans2Go cement itself in the fintech industry.
You might also be interested in…