Azure Virtual Desktop (AVD) Deployment Services
Let the experts deploy Microsoft's next generation virtual desktop technology, empowering your employees to stay productive wherever they're working from.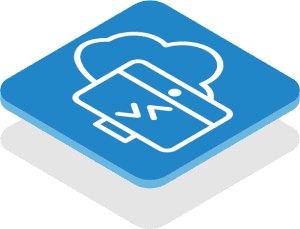 Get deployment right first time, on time
Our Azure Virtual Desktop (AVD) deployment services allow you to ensure you have a best practice build, supported by experts.
The service de-risks the potential issue of misconfiguration or lack of knowledge influencing the security, performance, and functionality of the deployed solution.
Our team guarantees your Azure Virtual Desktop solution is deployed correctly first time, on time.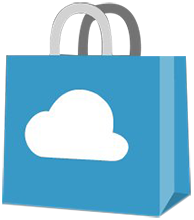 Buy direct from Azure Marketplace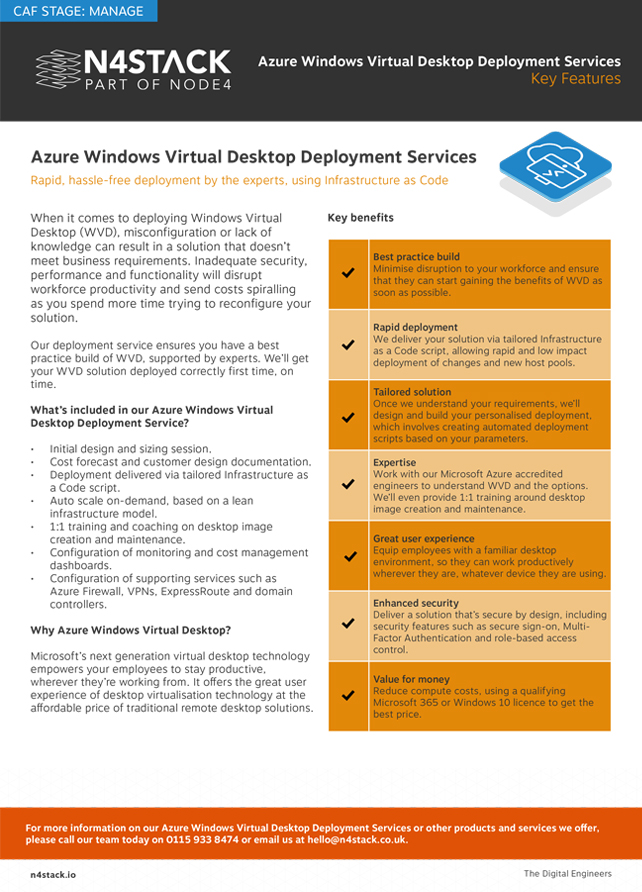 Download our datasheet for more information
Enable modern, flexible working
Business is no longer restricted to the office; your employees are working remotely, in the field and on the move. They expect secure, constant connectivity and access to specialised tools for their roles, wherever they are, whatever device they are working from.
Enter Windows Virtual Desktop, today's modern desktop experience. It offers the great user experience of desktop virtualisation technology at the affordable price of traditional remote desktop solutions.
What you'll get
Our AVD deployment services provide a quick and stress-free route to deploying and gaining the benefits from Azure Virtual Desktop. Our experts will take the time to understand your requirements and explain AVD and the options. The team will then draft a design and cost forecast which details your personalised deployment.
Using these requirements and the agreed design our engineers will build automated deployment scripts based on your parameters. This enables a rapid deployment and during the testing phase means that any changes can be made quickly allowing the entire AVD deployment to be redeployed in minutes.
Delivered by Microsoft Azure accredited engineers
Initial design and sizing session
Cost Forecast and Customer design documentation
1:1 training and coaching around desktop image creation and maintenance
Delivered via tailored Infrastructure as Code script, allowing rapid and low impact deployment of changes and new host pools
Auto scale on-demand based on a lean infrastructure model
Configuration of Monitoring and Cost Management Dashboards
Configuration of supporting services such as Azure Firewall, VPN's, ExpressRoute and Domain controllers
Case Study
Find out how N4Stack helped Novacroft to continue uninterrupted through COVID-19 uncertainty by providing a hybrid cloud environment and integrating Azure Virtual Desktop (AVD).
"Thanks to N4Stack, when lockdown was announced we were able to move to a remote working model without any problems whatsoever", Corin Flett, Operations Director, Novacroft.
The best user experience
With AVD employees can work more productively within a familiar desktop environment, consistent across eligible devices. They'll be in a Windows 10 environment with access to all the usual productivity tools they know and love.
Azure Virtual Desktop is designed to work with Office 365, ensuring full functionality of apps and fast load times for user files.
​Files automatically load to virtual desktops so your employees can quickly access information from their devices.
Personalisation is possible through the Azure portal. Give every user the tools and applications they need for their role.
Keep business data secure
Azure Virtual Desktop is built in Azure, making it secure by design.
This means you can protect valuable business data using security features such as secure sign-on and Multi-Factor Authentication. You can also restrict access to sensitive customer information, by assigning user access and granting permissions based on role.
Benefits to your business
Enable employees to work productively – whether remotely, in the field or on site.
Modernise your operations, meeting demand for remote and flexible working.
Provide the best user experience across devices, with fast access to files and familiar tools.
Ensure peace of mind, with enhanced security and simplified management.
Reduce compute costs, using a qualifying Microsoft 365 or Windows 10 licence to get the best price.
Demand driven auto scaling to optimise costs and meet operational goals.
7 Considerations When Pricing Azure Virtual Desktop
Azure Virtual Desktop (AVD) combines the scale, security and cost benefits of Azure​ and M365 to deliver a virtualised modern desktop.
The flexible pricing commonly associated with Cloud solutions can at first appear complex. That's why we've boiled it down to 7 key considerations for pricing AVD in this short video​ – ensuring your business gets the right level of performance for the right price.
You might also be interested in…