If you weren't one of the 12,000 attendees or one of the 4,000+ streaming the AWS Summit, London live then let me take 2 minutes of your time to fill you in. Firstly, wow, the number of attendee's year on year is increasing and I have to say there was no sign of the much need autoscaling in the sign in and queuing processes. As Gavin Jackson (UK MD) highlighted in his opening gambit the speed of growth in AWS revenues is not only growing but it's gathering pace. Gavin called out the $22bn revenue run rate and 49% yoy growth figures to demonstrate that AWS is growing faster than any other IT company, ever. What does AWS put this monumental growth down to? A mixture of digital transformation or as they put it Industry = Software and the growth of new start-ups and apps choosing AWS over other "high calorie technologies".
Gavin then went on to announce the General Availability of "Enterprise Contracts for AWS Marketplace".  Enterprise Contracts are designed to save customers the time and hassle of negotiating legal terms with multiple software vendors, AWS therefore align the vendors to one uniform agreement simplifying what is currently a complex issue. Read more…
After an interesting case study from Jaguar Land Rover on connected cars, CTO Werner Vogels took to the stage for the main keynote. The main kick off topic was around data and the discussion that as all companies are now working on the level playing field of having access to the same AWS services, organisations have to differentiate through using their data, innovating and improving customer outcomes. Data is therefore a huge focus for AWS as it indeed it is with Azure as the hyperscaler's are investing heavily in Machine Learning and AI to provide the game changing secret sauce for new applications. Having met with Microsoft's UK CTO Michael Wignall a couple of weeks ago he explained that Microsoft has over 5,000 staff dedicated to AI and ML R&D…. this is the new battle ground. As Werner put it "We matured our IaaS service in 2009/2010"…. Iaas is so last decade!.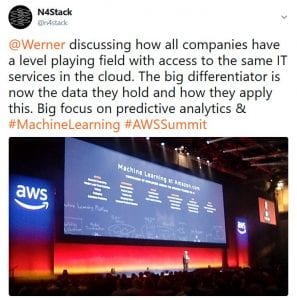 Werner went on to provide a well measured whistle stop tour through the product portfolio providing updates and information on new releases, these included:
Aurora: (The fastest-growing service in AWS history)
Aurora Back Track: A new feature that allows the ability to roll back to any transactional point in time, in real time … online! Read more…
Aurora Serverless: On demand, Autoscaling database service, abstracting the customer from the need to provision instances, with micro billing. Read more…
Aurora Multi Master: Now in preview – heralded as the first relational database with scalable, cross datacentre capability. The ability to write data to many DB nodes across regions. Read more…
AWS Glue: A reminder of its new availability in the Europe London region Read more…
EKS: Announced in preview. A managed container platform to run production grade Kubernetes. Also coming is Fargate for EKS to give parity with ECS.Read more…
S3/ Glacier: S3 & Glacier Select – A new capability to pull out data using SQL expressions  Read more…
After the run through of containers and serverless…. (with Werner gleefully pointing out the complete lack of serverless capability in Oracles cloud), the keynote finished poignantly on Security, obviously every presentation needs a mention of GDPR! but the closing message was "Security is everyone's responsibility" with an almost fatherly tone pointing out to all the eager (now nervously twitching) Devs in the room the finer detail of AWS security capability that needs baking in as standard and not to leave it to the responsibility of the security team. After the keynote there were some great sessions all focussed on technical "how to build on AWS" and none of the normal corporate guff delivered by commercial staff with no real technology grasp.
A really compelling event.
REMEMBER…