Introducing Oracle SE2…..
(updated on 1/9)
In case you missed it, last week Oracle announced the release of Oracle Database Standard Edition 12.1.0.2 which is due this quarter and with it comes significant changes to the product and licensing model. The full support note can be viewed here https://support.oracle.com/epmos/faces/DocumentDisplay?id=2027072.1
The announcement provides the following information and guidance: (see 1/9/15 update at foot of post)
From the latest release SE & SE1 are replaced by Standard Edition 2.
SE2 will run on systems with up to 2 sockets and will have the ability to support a two node RAC cluster.
Customers running SE or SE1 will need to migrate their licenses to SE2 to be able to upgrade to 12.1.0.2.
Full patching support will be provided for 12.1.0.1 for SE and SE1 for 6 months post the release. Quarterly patch updates for 12.1.0.1 will be available in October 2015 and January 2016.
The problem however is that the above notes provide enough information to know that SE1 & SE as we know it are dead, being replaced by SE2; but not enough information to draw definite conclusions around the licensing implications.
Certainly if an organisation is currently running SE on a single server with more than 2 sockets, this means change when they upgrade to 12.1.0.2, with either a hardware rejig or a shift to Enterprise Edition, neither of which look very attractive.
I think if Oracle declare that 2 sockets is the absolute limit for a 2 server RAC cluster (a very popular config) then this has significant implications. Running on a single socket per server would be a strange thing to do as it leaves you very exposed per node and with the large price jump to Enterprise Edition customers will be scratching their heads.
I am jumping the gun on the full release notes, but I would encourage customers running SE1 or SE to watch this space very closely for further announcements. Subscribe to our newsletter here and we'll keep you updated.
Update 9/7/15: Please note that since writing this article the support note is no longer visible and the initial Oracle blog announcement here has been changed to a holding statement. So it looks like a full announcement is due very soon!
Update 1/9/15: Finally, the official announcement has been made, please see below the key highlights.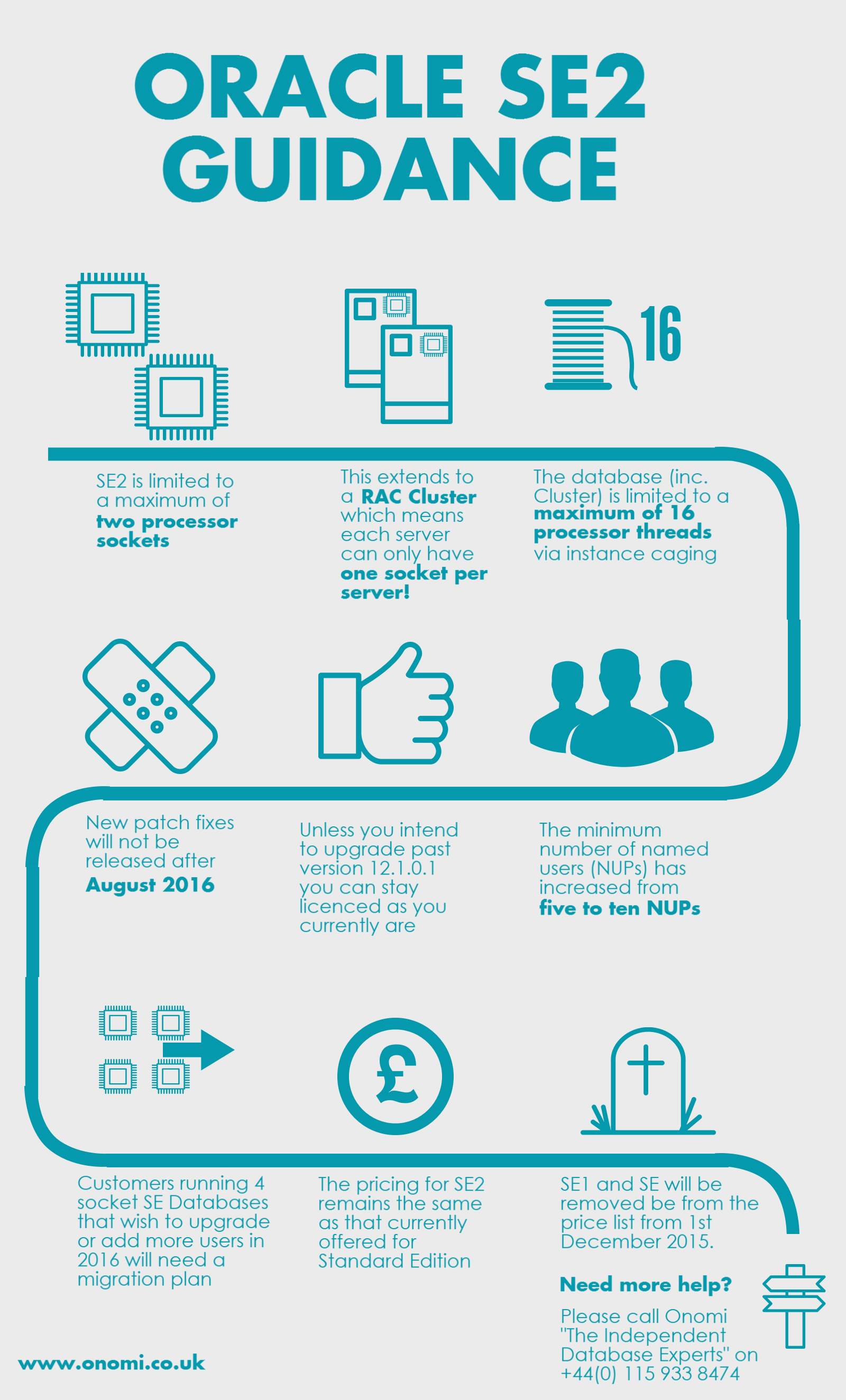 Update 27th June 2018: Onomi: The Independent Database Experts has now been re-branded as N4Stack: The Digital Engineers. We're still as passionate and fun as we've ever been though!